Paella With Seafood: A Recipe
March 1, 2020
Paella is an appetizing dish of Spanish cuisine, which is simply impossible to resist. Rice, supplemented with saffron, goes well with seafood; the latter can be replaced with soft chicken or vegetables. Today we will learn how to cook original homemade paella with seafood. Do not pass by this recipe, because it will be very tasty!
Cooking technology
The name of this popular dish, according to historians, has Latin roots, it comes from the word "patella", which in means "pan". Pay attention that cooking paella with seafood can be both in the pan and in the oven, in the latter case, it will turn out less crumbly. In Spain, paelleras are used for this purpose – a round-shaped metal product equipped with two side handles. It is put on open fire, using firewood from an orange tree. In the CIS countries, hostesses can easily replace paelleras with their favorite cast-iron or steel frying pan with high sides. Traditional seafood paella is made from the following ingredients:
tiger shrimp,
mussels
octopus
squids,
cuttlefish
mollusks.
Also used strong fish broth, green bean pods, artichokes, saffron, tomatoes and olive oil, which is better not to replace sunflower. For paella choose round grain rice, in particular, varieties Bomba rice, Arborio, Albufera or Carnaroli, characterized by high quality and pleasant taste. We considered the ingredients and features of the dish, so let's move on to the way of cooking.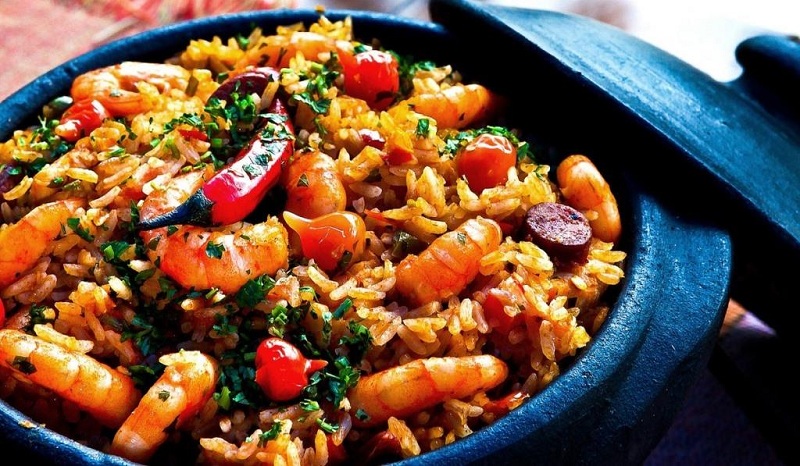 Step by step paella with seafood recipe
To create traditional Spanish paella, you need the following ingredients:
250 grams of rice;
5-7 pcs. large tiger prawns;
150 g squid, large mussels in shells, green beans;
spices: saffron, peppers mix (fragrant, black, red);
3-4 cloves of garlic;
head or fish trimmings for broth;
olive oil;
sauce: about 700 g of tomatoes, as well as 1 carrot, 150 g of celery, 1 medium onion, garlic to taste, salt, about ½ tsp. Sahara.
Start creating seafood paella with broth: rinse the fish pieces, put them in a saucepan, cover with water (about 600 ml of broth will be needed), and then boil for half an hour after boiling. Ready and cooled broth can be drained using cheesecloth.
Important!  If you choose frozen seafood cocktail for seafood paella, then before adding to the dish, seafood must be boiled for 5 minutes. The broth, in this case, is sure to drain because it is extremely not recommended to eat.
Seafood preparation – manual with photo
At this stage, remove and rinse all seafood, and then proceed as follows:
Heat in a deep frying pan 2-3 tbsp. l olive oil, add peeled garlic, which must be quickly fried until golden brown.
Remove the garlic, but not his place put the shrimp. They need to fry on each side, soaking in a pan for 2-3 minutes.
Put in a separate pan mussel, if they are not frozen, you can add 50-100 ml of water. In the process of heat treatment, the sinks should open slightly. Prepare mussels for about 8 minutes.
Cut the squids, boil them in boiling water, but not more than 5 minutes, otherwise, the pieces will become "rubber".
Put the seafood in a deep plate, do the cooking of tomato sauce.
Passat for Paella
Passat – a traditional Spanish sauce, at home it is prepared as follows:
Tomatoes need to be washed and then scalded with boiling water, quickly removing them from the skins. To lower tomatoes in hot water, you can use a circular skimmer or a regular spoon.
Tomatoes should be cut into cubes and put into a deep sauté pan, in this dish you need to send chopped carrots, celery, onions, as well as 70-100 ml of olive oil, spices to taste, sugar (previously dissolved in water), garlic and salt.
Stir the ingredients, bring to a boil, and then simmer on the fire for 30 minutes.
Chopped seafood paella sauce grind in a blender. You can put more onions in the sauce, as well as basil.
Direct cooking in a pan
Pour the prepared sauce into a deep frying pan with thick walls and a bottom, add the beans and 1 tbsp. hot fish broth. Send the rice to the boiling mixture, smooth the grits using a wooden spatula, pour another 1.5-2 cups of broth and add the saffron (must be diluted in 20 ml of water). The rice is stewed for a quarter of an hour on low heat, seafood is added to the dish at the very end, carefully laying them on rice.
Serve paella in the dishes in which she cooked, each guest puts the dish on the plate on their own. You can add a meal with lemon slices, finely chopped greens, cherry tomatoes. Eating paella with seafood with wooden spoons, it is believed that the metal significantly changes the taste of the products. Paella goes well with cold citrus lemonade or non-alcoholic sangria. Bon Appetit!